Nanoil Castor Oil. Do you know all castor oil uses?
The legendary properties of castor oil encourage us to introduce this natural substance into daily body and hair care. However, is this inconspicuous oil really able to accelerate eyelash and hair growth, slow down baldness and minimize acne?
Learn the properties of Nanoil Castor Oil to see how it affects hair and skin.
You'll be surprised by the multitude of castor oil uses and the effects it has on hair.
Nanoil Castor Oil: About the product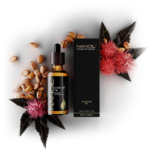 This cold-pressed, unrefined and 100% organic castor oil makes the best choice if quality is what you value most. Why? Simply because owing to this technique of oil extraction, Nanoil Castor Oil preserves 100% nourishing substances that Ricinus communis offers; also, this ensures maximum effects.
It should be realized that this is an entirely natural oil which carries Ecocert label – this means that the product contains only organic, eco oil extracted from Ricinus communis. Lack of preservatives, synthetic aromas, colorants enhancing the oil shade and other additives, which only in theory are supposed to boost the oil action, is the highest quality guarantee.
What's inside? Nanoil Castor Oil equals 100% castor oil containing ricinoleic acid. It displays antibacterial properties and offers a set of essential fatty acids as well as vitamins A and E.
If you care for pampering your body in a natural way, you should consider this multi-tasking and effective Nanoil Castor Oil as a good choice. Especially when realizing that the ways in which you can apply it are… numerous!
How does Nanoil Castor Oil work?
Depending on how you apply castor oil, with its help you can easily solve many skin and hair ailments. Which in particular?
Learn 10 beauty benefits of Nanoil Castor Oil!
Is antibacterial, hence acne curing.
Is an effective cleansing agent, for example, when used in OCM blends.
Reinforces hair bulbs which is why it limits hair loss.
Accelerates eyelash and eyebrow growth effectively.
Strengthens hair, increases hair volume and speeds up hair growth.
Can be used in fingernail care by regenerating them.
Leaves skin lubricated and protects it against damage.
Prevents water loss and maintains adequate level of hydration in skin.
Soothes various skin ailments, including itchy scalp.
Intensifies hair colour, darkens it and boosts shine.
Application of castor oil in body and hair care
This inconspicuous castor oil is recognized as a fine natural cosmetic. Did you know that you can use it in a few ways? Discover the most interesting applications of Nanoil Castor Oil.
To slow down hair loss and accelerate hair growth: keep rubbing castor oil into scalp for a few weeks by doing a few-minute massage; then you can expect the hair to get stronger and start growing faster.
To deal with scalp ailments: regularly, before each hair washing, apply a blend of castor oil and rosemary oil to scalp to eliminate dandruff and itchiness.
To reinforce brittle and short fingernails: use castor oil as a nail conditioner and rub it into nail plate and cuticles at least once a day in order to strengthen fingernails, boost their shine and accelerate their growth.
To cleanse face skin: use castor oil to create your OCM blend (use a carrier oil e.g. argan, almond and more or less 10-30% castor oil) and keep cleansing your face regularly.
To combat acne: use castor oil solo, combine with other oils or as an additive to face masks in order to get rid of persistent acne and soothe irritations.
To strengthen thin and excessively falling out eyelashes and eyebrows: owing to applying castor oil to eyelashes and eyebrows (use a clean mascara wand), you can thicken, extend and darken the hair.
Feel encouraged? If you want to learn more ways of applying Nanoil Castor Oil, go on the official site of the product and discover its incredible action!